Apacs Z Ziggler, one of the most discussed badminton rackets in recent times has features similar to Yonex Nanoray Z-speed and Yonex Voltric Z Force II. This head-heavy, high-string tension racket is for the attacking players who want instant access to power with more control. Apacs Z Ziggler, a fast racket with all the premium features is often compared with rackets priced much higher. It is truly a racket of value for money.
Let's jump to the review of Apacs Z Ziggler, one of the most sought badminton rackets in India for wide coverage over strokes.
Specifications
Weight: 85 ± 3 gms (4U)
Frame Material: High Modulus Graphite
Shaft Material: High Modulus Graphite
Balance: Slightly Head Heavy (290 mm ± 3)
Flexibility: Medium
String Tension: ≤ 38 lbs
Head shape: Isometric
Length: 675 mm
Shaft Diameter: 6.4 mm
Grommets: 76
Strung: Strung/ Unstrung
Color: Grey
Grip: G2
Playing Level: All
Playing Style: Offensive
Review of Apacs Z Ziggler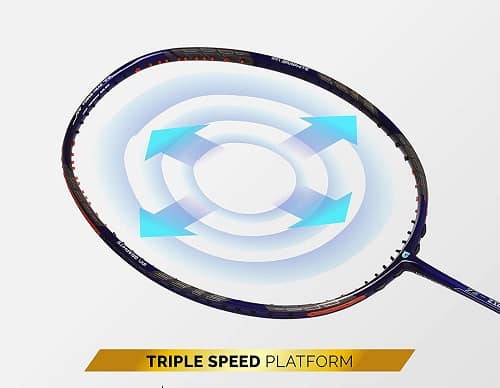 Triple Speed Platform Frame: Apacs has designed the frame of Z Ziggler with the concept of TSP (Triple Speed Platform) to get more power for smashes, fast racket handling, and good control.
Compact Frame: To get the fast swing speed of a head-heavy racket, the frame weight has been reduced by making it smaller. During the swing of the racket, the air resistance has been drastically reduced. The result is faster racket handling with an increase in swing speed.
Ultra Slim Shaft: The extra slim shaft (Diameter of 6.4 mm) of Apacs Z Ziggler is made using Nano Carbon technology. The aerodynamic slim shaft helps to reduce air resistance for a more powerful hit.
Isometric Head: The isometric shape of this racket increases the hitting area on the string bed by equalizing the length of the cross string and main string. This feature helps amateurs to hit a shuttlecock with the same power even if the point of impact is slightly off-center.
Hi Modulus Graphite: Both the frame and shaft of Apacs Ziggler are made with Hi Modulus graphite which gives strength and high repulsion power.
Singles-Pass Grommet Pattern: The single-pass grommet pattern of the frame allows only a single string through the holes of the grommets. For this, the number of grommet holes increases to 76 for a smoother contact between the frame and strings. The result is better string performance with an increase in durability (approx. 7%).
High Tension Capacity: This Z Ziggler has a high string tension of up to 38 lbs with extreme durability which is a unique feature of rackets from Apacs. This string tension is the highest as per industry standards.
Performance
It's a good balanced racket for every level of players, especially intermediates. Being a head-heavy badminton racquet, you will feel the smash power though clears from back-court need some arm power. The high-string tension of this lightweight Z Ziggler gives you a good command over control for precise placements. Drops and close net play also look easy. To avoid any issue with durability, strung the racket within 28 – 30 lbs.
Also Read: "Top 8 Best Badminton Rackets for Smash in 2023"
Price
The Z Ziggler is a racket with a low price-performance ratio. It is available at a very reasonable price of ₹2199 on Amazon India. Also, you have too many choices of colors.
Sale
Apacs Z Ziggler
1. The extra power head design maximizes frame stability, minimizes racket torsion, and increases shuttlecock speed.
2. High String Tension for enhanced control
3. The extra slim shaft makes it even faster.
4. The Z Ziggler is made of ultra-strong carbon graphite material for higher strength and rigidity
Positives of Apacs Z Ziggler
Exceptional power
Powerful sharp smash
Good for drop shots and net play
Faster racket handling
Good control
High repulsion power
Great maneuverability
Increased string life
Negatives of Apacs Z Ziggler
The quality of the racket cover is not good.
About the Brand: Apacs
Apacs Sports, a UK-based company is popular for quality products in the fields of Badminton, Table Tennis, and Tennis from low-end to high-end so that beginners, as well as professional players, can access the best equipment for ultimate satisfaction. The products of this company are gaining popularity due to value for money and high quality which is the result of innovative technology and craftsmanship.
Wrapping Up
Apacs Z Ziggler is the top choice for those attacking players who want instant power with easy racket handling for short, fast rallies. With a decent price tag, this high-performing racket gives you the best value for money.
For other alternatives, you may check my article " Top 10 Best Badminton Racket Under 3000".
Suggested Topic: "Apacs Finapi 232 Badminton Racket Review"
Last update on 2023-12-09 / Affiliate links / Images from Amazon Product Advertising API