Tennis is one of the most popular sports played all over the world. This exciting game is played on many surfaces and depending upon the playing surfaces, there are many types of tennis courts. Each court has its own characteristics which favor a certain type of playing style.
Quick Comparison of Different Types of Tennis Courts
| | | | |
| --- | --- | --- | --- |
| Tennis Court | Speed | Bounce | Playing Style |
| Grass | Fast | Low | Serve-and-Volley |
| Clay | Slow | High | Baseline Rally |
| Hard | Medium | Medium | All-round |
What are the Types of Tennis Courts?
Depending upon the playing surface, there are 5 types of tennis courts.
Grass Court
Clay Court
Hard Court
Artificial Grass Court
Carpet Court
Among the 5 types of tennis courts, grass, clay, and hard courts are the most common and eligible for international tournaments as per guidelines of ITF (International Tennis Federation).
Check the list of 4 prestigious Grand Slams and ATP Masters 1000 played on different types of tennis surfaces.
Grand Slam
| | | |
| --- | --- | --- |
| Tournament | Playing Surface | Venue |
| Wimbledon | Grass | London |
| French Open | Clay | Paris |
| Australian Open | Hard | Melbourne |
| US Open | Hard | New York City |
ATP Masters 1000
| | | |
| --- | --- | --- |
| Tournament | Playing Surface | Country |
| Miami | Hard (Outdoor) | United States |
| Monte Carlo | Clay (Outdoor) | Monaco |
| Madrid | Clay (Outdoor) | Spain |
| Rome | Clay (Outdoor) | Italy |
| Toronto | Hard (Outdoor) | Canada |
| Cincinnati | Hard (Outdoor) | United States |
| Shanghai | Hard (Outdoor) | China |
| Indian Wells | Hard (Outdoor) | United States |
| Paris | Hard (Indoor) | France |
ATP Finals, the second prestigious tournament after Grand Slams is played on an Indoor Hardcourt.
Grass Court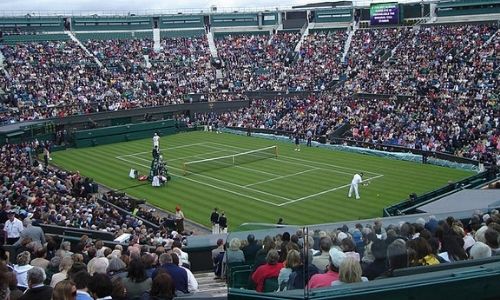 If you look back to the history of tennis, you will find that in the 18th century, grass courts were first used by the gentlemen and ladies of Victorian England, where the game was known as lawn tennis. Though the most prestigious Wimbledon is played on grass courts, this type of court is relatively uncommon due to the high maintenance cost. Also, time is a major concern to retrieve the slippery court in playable conditions in rainy weather. 
Due to the skidding nature, grass courts are fast and the bounce is low and unpredictable. Rallies are shorter and the importance of speed, quick response, and big serve is huge on grass courts. Players with a good serve-and-volley game get a distinct advantage while playing on this type of court. Roger Federer, the legend of tennis and one of the best servers has lifted the Wimbledon singles trophy for a record of 8 times.
Clay Court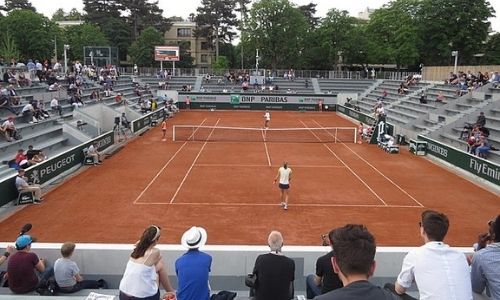 Clay court is the slowest among all types of tennis courts. Clay courts are made with crushed brick, shale, or stone. The red-colored clay courts (made of crushed brick) are more popular in Europe and Latin America.
Due to the slowness and high ball bounce, this type of court favors playing from the baseline with lots of spins. Rallies are longer, topspin players get the advantage to prolong rallies with better consistency. Out of the four grand slams, only the French Open is played on the clay court. Rafael Nadal, the king of clay court and the master of topspin holds the world record for winning the French Open singles trophy 10 times.
Hard Court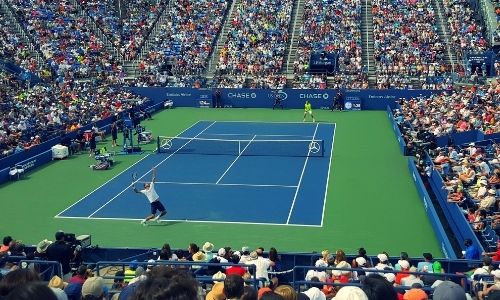 In terms of speed and bounce, hard courts lie in between grass and clay courts. Hard courts are made with concrete/asphalt material with an acrylic surface layer. This is the most common type of court used all over the world.
Due to uniform, even, and consistent bounce, this medium-paced hard court opens the wings for all-round play. The pace rating of hard courts can vary from medium-slow to medium depending upon the hardness of materials used. Both Australian and US Open are played on the acrylic hard court.
Artificial Grass Court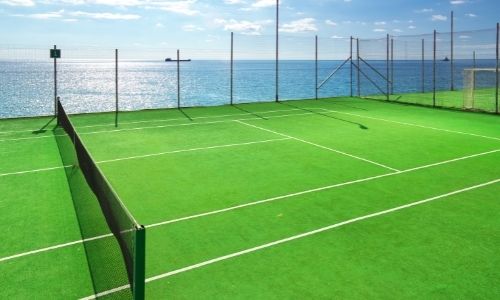 The artificial grass court has a feel and looks like a natural grass court. These easy-to-maintain courts use plastic grass fibers for better durability. Like grass courts, artificial grass courts are fast and have a low ball bounce.
Carpet Court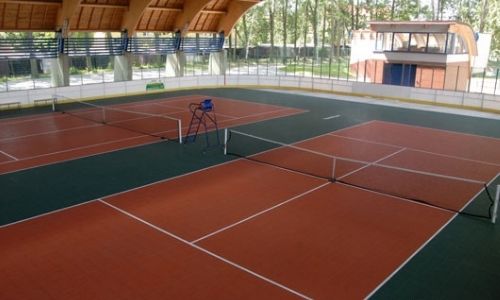 As the name suggests, carpet courts, similar in nature in terms of speed and bounce to a grass court, use the covering of artificial turfs or thick textile surfaces with rubber matting. While artificial turfs are laid over a concrete base for recreational play, the rubber matting textile coverings are used for competitive indoor tennis. Carpet courts have been discontinued for ATP Tour since 2009 and WTA Tour tournaments after 2018.
Classification of Tennis Courts on Pace Rating
Tennis courts are also classified into 5 categories by ITF according to pace rating.
Category
Pace Rating
Playing Surface
Category I(Slow)
0 – 29
Clay Courts
Category II(Medium-Slow)
30 – 34
Hard Court
Category III(Medium Pace)
35 – 39
Hard Court
Category IV(Medium-Fast)
40 – 44
Grass Court,
Artificial Grass,
& Carpet Court
Category V(Fast Pace)
≥ 45
Grass Court,
Artificial Grass
Frequently Asked Questions
1. What is the most common tennis court surface?
Hardcourt is the most common and popular in tennis. Out of the 4 big grand slams, Australian and US Open are played on hard court. Hardcourt is also the playing surface for the prestigious ATP Finals and 6 ATP Masters out of the 9 Masters 1000 tournaments.
2. Which tennis courts are the fastest?
The grass court is the fastest court in tennis which favors the serve-and-volley type playing style.
3. Which type of ball should be used on which court surface?
Three different types of balls, approved by ITF can be used depending upon the playing surface of a tennis court.
| | |
| --- | --- |
| Ball Type | Type of Court |
| Fast Speed (Type 1) | Slow pace court (Clay Court) |
| Medium Speed (Type 2) | Medium-slow, Medium & Medium-fast pace court (Hard & Grass Court) |
| Slow Speed (Type 3) | Fast pace court (Grass Court) |